The Meredith in Pacific
The ultimate in versatility, comfort, and effortless style. This super skinny fit works perfectly with any shoe, and for any occasion. How will you wear yours?
SHOP NOW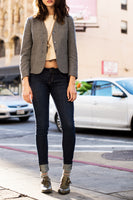 The Skinny in Thunder For Men
When it comes to comfort, it just doesn't get any better than this... Our super soft comfort stretch denim allows you to achieve that tailored look you've been wanting, while still allowing for the ultimate in comfort and movement.
Shop Now